The industry-leading construction ERP solution — scalable, configurable and fully integrated, Vista™ provides timely reporting of critical financial data with unrivaled visibility and control.
Vista is a fully-integrated comprehensive construction accounting suite that helps contractors manage all areas of their business — from the Office, among the Team and in the Field. Vista features leading-edge solutions for accounting, project management, business intelligence, project collaboration, mobile, estimating, document management, service management and more.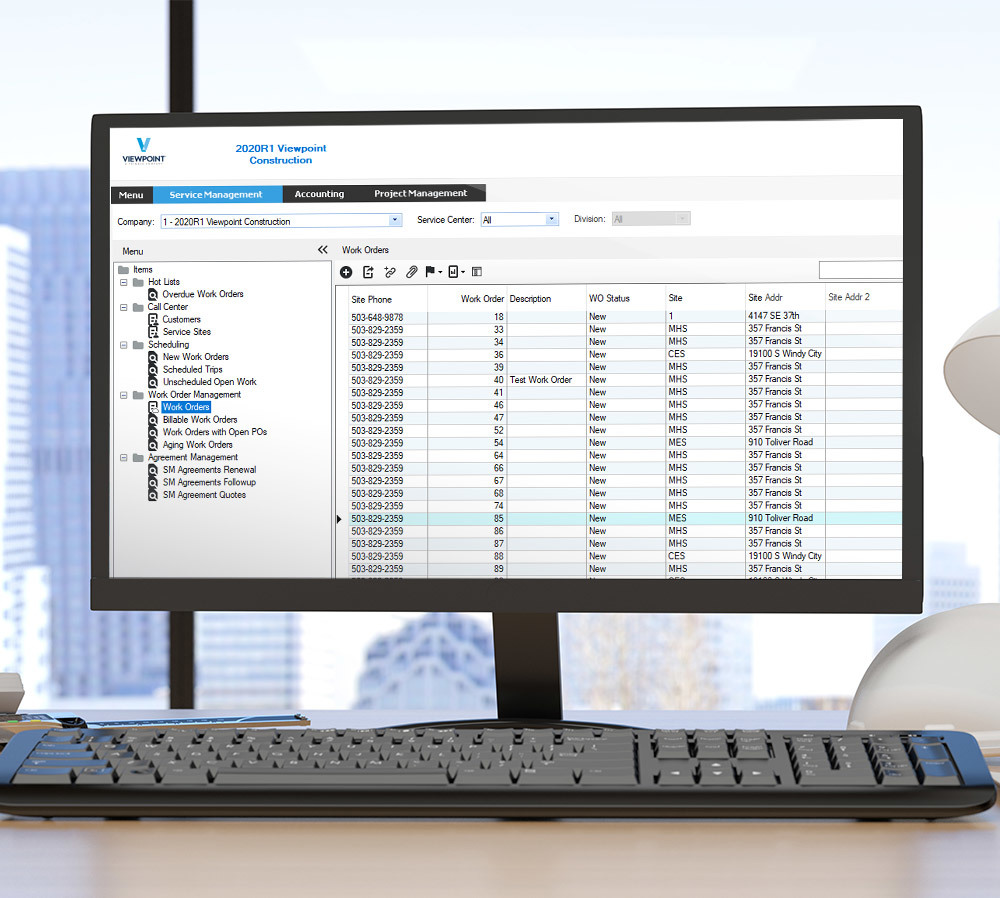 Why Choose Vista?
Transparency and collaboration
Gain complete project visibility by integrating your office, field and project teams.
Smarter, smoother projects
Reduce risk, improve and standardize workflows and increase project quality.
Maximize profits
Meet deadlines by easily managing and tracking RFI's, transmittals and more.
Accounting software that keeps up with your bottom line
Power to handle your growing company with efficient and accurate accounts payable, accounts receivable, general ledger, payroll and cash management.
Go paperless without getting less
Secure, fast, and collaborative document management.
Intuitive templates for faster processes
Standardized templates for income statements, balance sheets and more.
Viewpoint HR Management
Drive technology adoption, reduce the burden on your HR staff and provide employees with the convenience and ease of a self-service portal with Viewpoint HR Management. A web extension of Vista, it seamlessly integrates with the industry-leading ERP to eliminate rekeying, reduce errors and speed up critical HR workflows.
Vista enables the seamless centralization of information with complete visibility, providing secure, fully interactive data across your organization.
Experience a dramatic increase in efficiency and profitability with the most comprehensive construction software solution on the market.
CDP offers private classroom training for Vista, either in our training facility or at your location. Private training focuses on your specific processes and needs, allowing multiple employees or even whole departments the opportunity to receive custom tutoring and understand how the software or features provide direct benefit to your immediate needs. Click here to request training for Vista.
The Bridge to Better HR. Hire the right people faster, manage compliance and employee relations, and empower your workers to grow and succeed with Arcoro, a modular solution that grows with you. The Arcoro HR management suite has everything you need to streamline HR processes, develop your organization, and manage HR compliance.
Cosential helps Architecture, Engineering and Construction (AEC) firms gain competitive advantage and increase revenue and profitability, while decreasing the cost of winning new business, with Growth and Relationship Management software and services that bring order, control, speed and efficiency to Business Development and Marketing.
Finance teams, already under pressure to make tough decisions, face additional challenges when relying on spreadsheets or consultant-built reporting applications for critical data. Prophix Construction Financial Essentials is a turnkey solution that allows contractors to see and react to changes happening daily in a fully automated, web-based platform.
mJobTime combines flexibility, configurability, and customizability with a great feature set and outstanding service to provide the most powerful time tracking solution in construction. It delivers a substantial savings of time and money to businesses of all sizes by significantly improving and streamlining control over labor and equipment at the job site.
Easy Financial Reporting for Viewpoint: Spreadsheet Server can help your organization save time and get a clearer view of your business data with real-time access to Viewpoint data within Excel, drill-down capability from summary to transaction, the ability to create custom queries from any relational database, and a wide range of reports for your organizational needs.
BuildOps integrates directly with Viewpoint Vista to manage your business from one connected system. Your data stays accurate, accessible, and organized without the need for double entry or inefficient manual processes. It's accounting made easy.