JBKnowledge recently released the 8th Annual Construction Technology Report. From the amount allocated to IT investment and training satisfaction, to the continued prevalence of spreadsheets (even when there is dedicated software) and the factors that limit technology adoption, here are our top take-aways from the report.
First, a brief overview of respondent demographics:
50% of the responders were $1M-$50M, and 50% were over $50M
44% of responders were in the Eastern US (NE down to FL and Alabama)
Only 51% maintain on-staff IT resources
"There is no surprise that Gartner's prediction of a 6% increase in IT spending remains unrealized for the construction industry. The fact that IT spending has remained at a virtual stand-still for its third year is beginning to cause concern. Echoing the trends in IT budgeting, billing IT to projects remains almost entirely unchanged."
"Is "1% or less of the annual sales volume" the standard allotment for an IT budget? Or is three years simply not enough time to significantly impact budgeting and billing habits?"
Technology is the cornerstone of successful construction companies, and drives accuracy, reliability, and profitability for companies. Given that "1% or less of annual sales" is trending again, there seems to be an opportunity for firms who invest more in this area to create new competitive advantages and differentiators.
"Respondents reported having adequate IT support, along with above average training, and confidence with tech. The factors listed point toward IT departments being a great asset to companies - making the consistently low IT budgets puzzling."
Based on the above chart, there is room for improvement in technology training, as most respondents rate training at 5 out of 10. Some companies choose live classroom training with a training instructor who has the experience to answer questions about how to use the software to achieve specific business results and outcomes, ensuring that employees leave the class with the confidence, skills, and knowledge they need to transform your business. When multi-day, off-site training is not feasible, companies often look to online training to help employees learn a new solution, or new features of existing software.
Training is an essential part of any technology investment, and when conducted properly, will speed up the return on your tech investment.
"The same occupations are holding onto their spreadsheets. The roles relying on spreadsheets instead of making the leap to software are very value-oriented. After years of manual entry, it's easy to understand how it could be difficult to trust software or apps to perform the same tasks with significantly less effort. The industry must continue to offer education opportunities so companies can stay current with the latest software and apps. Companies must also cultivate a tech-savvy culture so software (and other ConTech) can be normalized and expected, rather than viewed skeptically as 'toys'."
"Accounting/ERP software use is up 6%! Project Management has risen 3%, bumping Estimating out of second place for software use. A very slow but optimistic reveal this year is the continued 1% annual decrease in reports of using 'no software.' Integrations, education, and advocating for the saved time and ROI of investing in software solutions are key to pushing adoption forward."
An interesting observation between these 2 charts is that almost 65% of respondents report that estimating depends heavily on spreadsheets, but 54.6% of respondents report that the estimating workflow is performed with dedicated software. Similarly, 53.6% of respondents report that accounting/ERP depends heavily on spreadsheets, but 85.7% of respondents report that the accounting workflow uses dedicated software. This raises some questions. If there is dedicated software in place for these workflows, why is there still such a high reliance on spreadsheets? Does the software not perform exactly as you need it to perform? Is there a training issue? Is there an adoption issue?
Workflows that depend on spreadsheets introduce risk and errors in the process. Mistakes in formulas, different teams using different spreadsheets, and manually data entered incorrectly are all very common issues that plague teams relying on spreadsheets. The lack of standardization increases risk for the company, while decreasing the accuracy of the data being used to manage projects, make critical business decisions, and forecast profitability. Click here to see how much your disconnected processes may be costing you.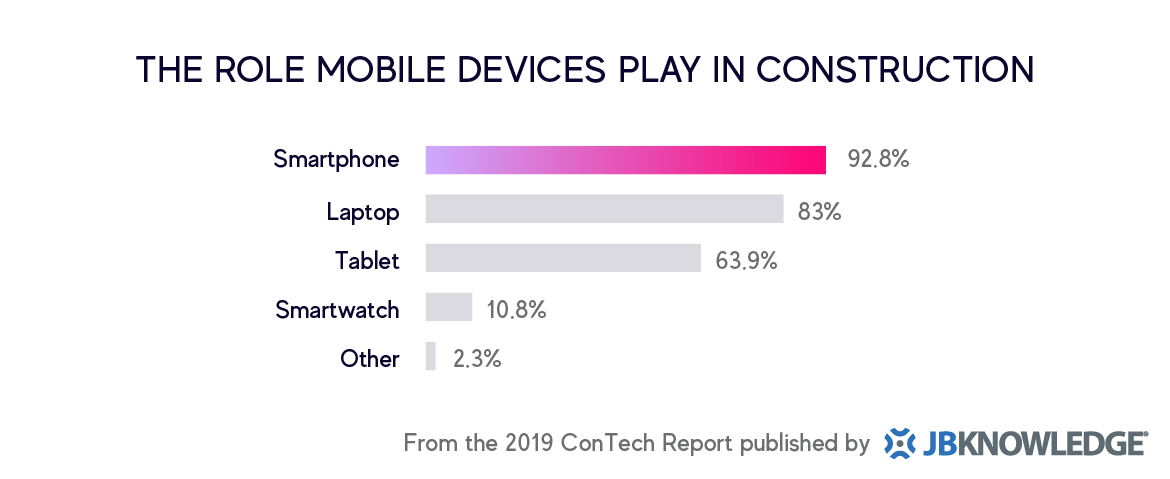 Mobile devices are essential in today's world, and the construction industry is no exception. Given the prevalence of and reliance on mobile devices and apps, it is somewhat surprising that laptops still come in at 83%, 20 percentage points higher than tablets. Field data collection is a key feature of the leading construction software platforms (including Spectrum and Vista).
"While the top workflows using mobile apps are only separated by less than 1%, safety apps in 2019 experienced a 4% rise. As smartphones continue to gain momentum, mobile apps for construction workflows are continually designed to be smarter and more convenient. Tablet use is stagnant for the second year in a row after a 10% increase in tablet use between 2016 and 2017."
"Tight budget, app fatigue, lack of training, and support – the barriers to adopting new technology have largely remained the same over the past year. Technology adoption takes time, resources and research that companies may not be prepared to invest in. Outsourcing to technology consulting firms may offer a solution."
With comparatively low levels of technology investment (less than 1% of annual sales), it is imperative for companies to realize all as much value as possible out of the tools they are investing in. Working with a company with specialized industry expertise who understands how to make your software work exactly as you need it to and how to implement effective software training and adoption programs is critical.
Download the full JBKnowledge 2019 Construction Technology Report