5 Best Practices to Ensure Change Orders are not Bringing Your Company Down
Your battle plans are always perfect on paper, until the very second they're executed in the field. As a construction project manager or project team member, you probably can relate to this more than anyone, as no project is built exactly how it's drawn up. There are always challenges and changes to deal with.
Overcome challenges related to change order management.
Controlling Change
That's why change orders have been a staple of construction processes for as long as anyone can remember. If handled properly, change orders can boost a contractor's revenue and profit margins. If handled poorly, they can, at best, lead to profit fade and project delays, and, at worst, cripple a project, create costly conflicts and litigation, and permanently damage contractors' reputations.
As today's modern projects become more complex and demanding, timelines are becoming tighter, stakeholders are adding more pressure and both materials and labor costs are increasing. Construction teams cannot afford to rely on traditional change order management for their projects.
Here are five change order best practices that you should be implementing to ensure your change order processes aren't bringing your company down:
1. Check Your Contract. Check it Twice
It all starts with a very important agreement placed in writing: a contract. Whether it's payment arrangements, how to communicate and finalize changes or time to complete a job, a contract review will help both parties better understand the scope of work; creating less frustration, confusion and, ultimately, lowers the risk of a lawsuit in the long run.
A contract is key to reducing miscommunications or risk of a lawsuit.
There is a price for every change. This should be clearly communicated to the customer.
2. Clearly Communicate Cost
Does your client know how much they will be charged for every change? You may assume the answer is yes while your customer may assume otherwise. Whether it's changing roofing material or redesigning an entire building, make sure your customer understands the price for every change before material is ordered or the design is drawn. Speaking of costs...
3. Understand the Full Cost of Changes
Figuring out the direct costs from change requests and change orders is fairly straight-forward. Typical direct costs include materials, labor hours, equipment and other expenses relating to the change. If an entire pallet of new wood screws needs to be ordered, it will cost X. But what about the indirect costs? The timeliness of the change order comes into play here. If project delays occur or labor is temporarily reassigned because of the change, it can impact your project's bottom line and profitability. If a change is made too late and materials are misused or damaged by weather, it can add significant costs to the project. Though indirect costs are harder to measure accurately, they should be considered when implementing project changes.
Having a consistent digital change order audit trail is invaluable for your projects.
Having a consistent digital change order audit trail is invaluable for your projects.
4. Make Sure Change Orders are in Writing
It might be easy to have a verbal agreement — especially under tight timelines when written contracts and addendums can seem like a burden. However, the extra effort to put an agreement or change order addendum in writing is worth the hassle. These change documents should include material cost, payments, timelines and anything else you think is necessary to provide clarity to you and the client. Don't forget to get a signature as well. While verbal changes do occur in construction, if there is a conflict or miscommunication later in the project, having that valuable audit trail will be invaluable.
5. Make the Change Order Process Easier
Having a cloud-based, construction specific software solution can connect the entire project team in real time and automate workflows. So, change requests can be easily created, approved and processed into change orders. The end result is a reduction in communication breakdown and costly errors. Streamlining the change order process will not only help your project team operate efficiently, but it can help avoid frustration and future litigation.
Construction specific software can streamline the change order process and connect the whole project team.
A Case for Changing to ViewpointOne
The ViewpointOne suite of cloud-based construction management solutions provide the modern software workflows to facilitate stronger change management processes. ViewpointOne gives construction companies an integrated software suite that seamlessly connects back-office professionals with field operations and entire project teams.
Hosted in the cloud, ViewpointOne combines Viewpoint's own leading construction ERP offerings with its collaborative team and field products, giving users a single source of truth in an integrated and flexible system for managing operations, improving productivity and enabling better decision making. With ViewpointOne, project changes can be facilitated in minutes, with better oversight and accuracy.
A field supervisor, for instance, realizing that door frames need to be six inches higher can issue a change request directly from his mobile device in the field. The project manager in the back office is alerted and reviews the request, agrees and communicates with the project owner and a change order is issued. And, all revised costs and immediately captured and updated in the system of record and applied to the project's job costs.
CONTACT US TO LEARN MORE ABOUT VIEWPOINTONE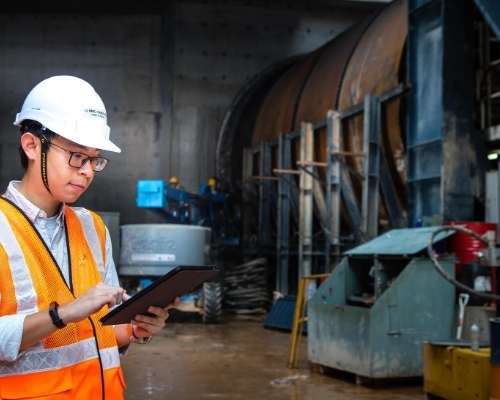 ViewpointOne can make the change order process easier.